16.02.2018___________
The Scientific Library invites to visit the book-magazine exhibition: "Maidan Ukraine. November 21, 2013 - February 23, 2014. Revolution of dignity ".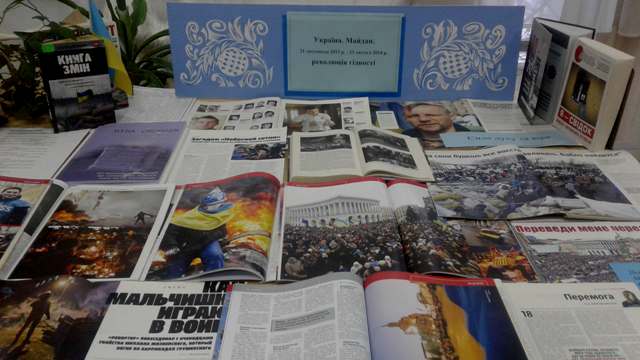 Material presented at the exhibition, tells about heroes and the Revolution. Ukrainian Maydan 2013-2014 became a symbol of struggle, a symbol of aspiration of Ukrainians to European values, and for this struggle, for our freedom and renewal, a terrible price has been paid. The youngest who were just beginning to live gave their lives. Books, magazines, photos, which reflect the events that have taken place since the first day of Ukrainian Maidan are offered to users' attention. Not only Maidan, as a place and experience, is in the center of attention but also a broad horizon - memory and dialogue, war and reconciliation.
The photo-album in three blocks is open on the part that shows perpetuation of memory of Heaven's Hundred Heroes. Eternal Memory and Glory to Heaven's Hundred Heroes! The memory of them will live forever in the hearts of faithful sons and daughters of Ukraine!
Heroes do not die!
The greatest attention of readers will be attracted by documentary materials, which are presented in book editions of writers, journalists and volunteers, who were participants of those events. In particular, the exhibition presents such publications as: "Price of Freedom", "EuroMaydan: A Chronicle of Sensations" [collection of essays by Taras Prokhats'ka, Ivan Tseterduk, Yuri Andrukhovych, Sergei Zhadan and Yuriy Vinnychuk].
There are books that reveal the topic of Russian-Ukrainian confrontation in the East of Ukraine, tragic pages of the antiterrorist operation and fate of ordinary Ukrainians.
The coverage of Maidan events is gradually transformed into the theme of heroic defense of the eastern borders of the Ukrainian state, which are represented at the exhibition by the editions: The Book of Changes (by A. Tsaplienko), "Airport", "Hell-242" by S. Loika's and "I am a witness" by V.Torba.
Artistic and journalistic collection "Ukrainian Warriors of Good and Truth" tells about our compatriots participation directly in hostilities and their assistance to Dnipropetrovsk region public.
We hope that the literature presented at the exhibition will be interesting for teachers and students of our university.

The material was prepared by
Social Sciences and Humanities Reading Hall chief
Abramova G. M.