Opening hours (since September, 1): Mon — Fri: 9–16.45, Sat, Sun: 9-15.45
---
Since January re-registration of readers is being held. Teachers, students and readers are welcomed to the library for  re-registration.
---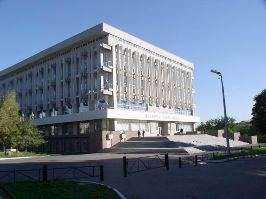 Address: 49107, Kazakova Street, 8 Dnipro
Director: Kubyshkina Svetlana Vasilievna



(38-056)-760-85-01, (librarydnu@gmail.com)
Deputy Director: candidate of historical sciences, Luchka Ludmila Mykolaivna,

(Luchka64@i.ua)

Methodist: Makeeva Irina Ivanivna - makeeva@ua.fm

EU Information Centre Yudina T.V. - tanyaydina@i.ua
The Department of Scientific and Technical Information of DNU - onti_dnu@i.ua

DNU Press center - presa.dnu@gmail.com,
Library Website - http://library.dnu.dp.ua/
Since October 2017g. the library provides users with free access to the international science-based databases Scopus and Web of Science. Please note: you can see the international patent database Derwent Innovation, which is available on the Web of Science platform.