Opening hours (since September, 1): Mon — Fri: 9–16.45, Sat, Sun: 9-15.45
---
Since January re-registration of readers is being held. Teachers, students and readers are welcomed to the library for  re-registration.
---
11.07.2017__________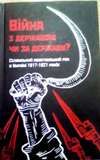 The library received a gift - a new book on the history of Ukraine dealing with the Ukrainian Revolution of 1917-1921. The author's staff of the publication includes 9 scientific historians, whose sphere of interest is the history of the rebel movement of this period.
The joint efforts of the authors made it possible to create a book that combines the results of modern studies of various aspects of those events and shows their ambiguity and significance in the history of Ukraine. Our special thanks to the donator, one of the authors, the doctor of historical sciences, a professor of DNU Archireiski Dmitry Vladimirovich.
Since October 2017g. the library provides users with free access to the international science-based databases Scopus and Web of Science. Please note: you can see the international patent database Derwent Innovation, which is available on the Web of Science platform.