21.06.2017__________
To the 125th anniversary of Y. A. Mezhenko's birth
(1892-1969)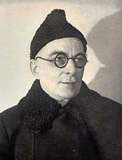 Mezhenko Yuri Alekseevich is an Ukrainian bibliographer, librarian, book expert and literary critic. The actual head of the library science during the Ukrainian Revolution of 1917-1921, a participant of the All-Ukrainian Congress of Librarians, the initiator of the All-Ukrainian Library Census, an active figure in the introduction of UDC system in Ukraine, the founder of the Ukrainian Book Chamber, he was the first head of the National Library.
Yuri Alekseevich collected the unique and the most complete collection of Shevchenkiana in the world, which, according to the will, was transferred to the Institute of Literature named after T.G. Shevchenko. Yuri Mezhenko died on November 24, 1969. The outstanding Ukrainian bibliographer is buried at the Baykovoye cemetery in Kiev.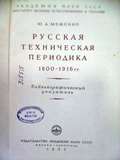 Our library keeps a bibliographic index "Russian technical periodicals of 1800-1916" (1955) published by Yu. A. Mezhenko As stated in the preface: "More than 400 journals and newspapers described in this bibliography represent in general the most valuable material for each researcher in the history of technology." The publication contains information about the first technical journals, their content and history.
Our users can find information about Yuri Alekseevich's life in the following books:
- "Ukrainian book publishing: origins, development, problems" by Yaroslav Isaevich, published in 2002 in Lviv;
- "Ukrainian Scientific Institute of Book Science (1922-1936)" by I. Kovalchuk, published in 2015 in Kiev;
- guidebook "Special archives of the Institute of Manuscripts".
The library community of Ukraine celebrated the 100th anniversary of Yu.A. Mezhenko's birth. V. I. Vernadsky Scientific Library held I Mezhenko Readings. 1994 was marked by publishing a fundamental work "Yurii Oleksiyovich Mezhenko (1892-1969): materials to the biography".