12.07.2016__________
Virtual exhibition "Titan of Thought and Work" (Devoted to I. Y. Franko's life and creative work (27.08.1856 – 28.05.1916))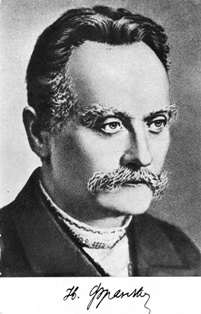 Introduction
Ivan Yakovich Franko is outstanding Ukrainian writer, poet, publicist, literary critic, translator, linguist, public and political figure, historian, economist, folklorist, journalist, PhD (1893), real member of Shevchenko Scientific association  (1899), doctor of Harkiv university (1906).
He belongs to the most outstanding men in the Ukrainian culture of the second half of the 19th – early 20th centuries. The greatness of master is that his works engross and worry after a century. Being literary annals of the past they become  invigorating source of knowledge and modern folk life for each new generation. The matter of the whole Franko's life was hard work. He is a man of exceptional abilities and broad European level education, scholar in the broadest sense of the word, has influenced all the spheres of social development in Ukraine.
This year (2016) on the 28th of August Ukraine will celebrate 160-anniversary since the writer's birth.

Bibliography to the book exhibition "Titan of Thought and Work"