19.02.2018________
On February 19 the world celebrates 545 years since the birth of the great Polish astronomer and mathematician Nicholaus Copernicus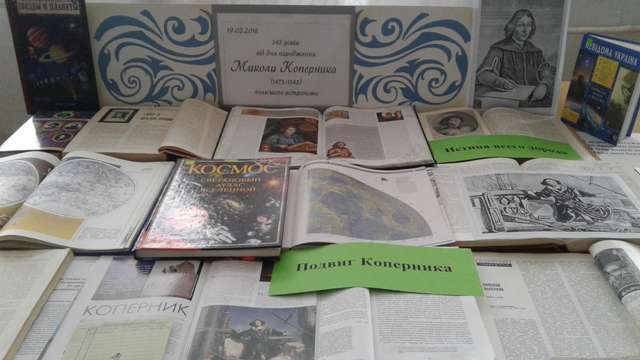 The idea of ​​creating a new theory of the world was leading in N. Copernicus's scientific work. In his most important work "On the rotation of heavenly spheres", the scientist postulated a completely new understanding of the Earth place and at the same time the place of a man in the universe, acting as the creator of the heliocentric world system.
More than 20 books and periodicals devoted to the life path and scientific activity of Nicolaus Copernicus are presented at the book exhibition prepared by the staff of Social Sciences and Humanities Reading Hall
The exhibition consists of the following sections:
"The feat of Copernicus".
"Truth is the dearest of all".
Books 'Man and the universe', 'Starry Sky', 'Space', 'Stars and Planet' and others attract the greatest attention. We invite everyone to visit the exhibition.
The material was prepared by Sukh Olga (librarian)