8.02.2017___________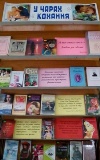 Approaching international holidays and Valentine's Day romantic-St. Valentine's Day and March 8! Love - a special feeling that everyone experiences at least once in their lifetime. This usually happens in the college years, when young people living carefree, cloudless life. But love - the feeling of strange and unpredictable, sometimes exciting, despite their age, and stops for a time
. Dive into the magic of love, reproduced talented poets and writers, to experience the joy and pain of loving hearts, learn to understand their feelings will help a great exhibition of books in the fiction department.
Read and enjoy the story of the love of romantic, passionate, fantastic! Love and be loved!
Give your favorite sweet words of love, they do not happen a lot, they are always waiting for ... your choices.