26.03.2017________
To the 100th anniversary of Oles Honchar Dnipropetrovsk National University
Book Donation of the Ocheretenko family (DNU Graduates)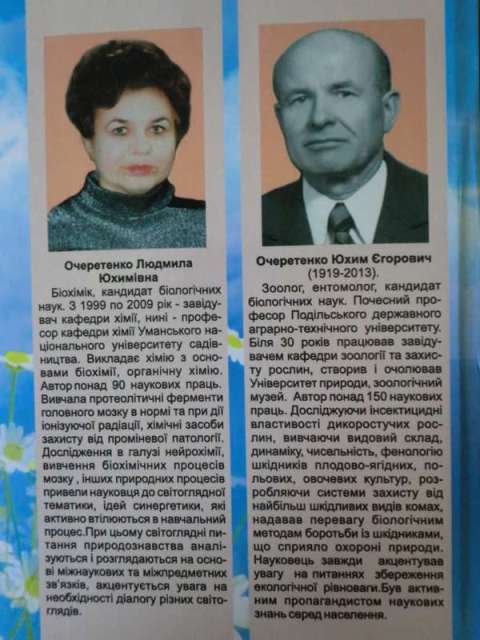 The Scientific Library received a book donation – author"s editions, monographs, textbooks of the Ocheretenko family, whose members studied at different faculties of DNU in different years.
Professor of Uman National University of Horticulture Ludmila Efimovna Ocheretenko was a graduate of the biological faculty of DNU. From her letter we know about all members of the family.
Ocheretenko Anatoly Egorovich studied in the pre-war years at the Faculty of Chemistry, and worked as a chief engineer in Bryansk.
Ocheretenko Yefim Yegorovich graduated from the Faculty of Biology in the postwar years. He worked as a chief of Plant Protection Department in Kamyanetsk-Podilsk Agrarian and Technical University.
Bondarenko Ekaterina Antonovna was a graduate of the philological faculty, a teacher. Ocheretenko Lyudmila Efimovna graduated from the biological faculty in the 70s, a biochemist, a professor of Uman National University of Horticulture.
Vuichenko Marina Anatolyevna trained at the Faculty of Economics, a PhD in Economics. By donating their author"s books in memory of their study at Dnepropetrovsk University, the Ochretenko family wish "native university development and prosperity", and mentioning the library express "sincere gratitude for creative and painstaking work."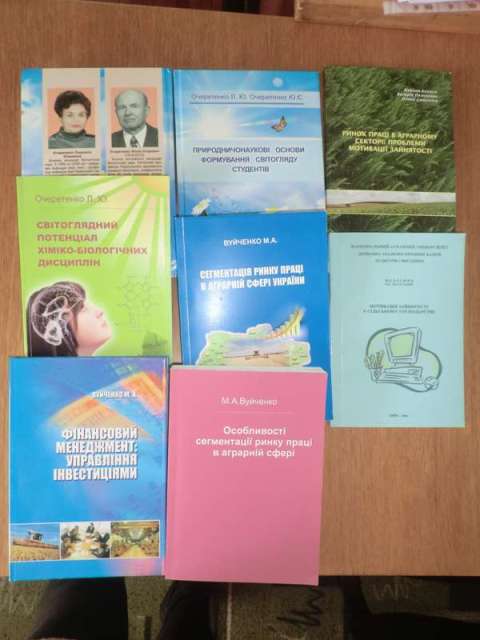 Meet scientific works of DNU graduates:
1. Очеретенко Л. Ю. Світоглядний потенціал хіміко-біологічних дисциплін: монографія – Умань: видавець "Сочінський", 2012. – 175 с.
2. Очеретенко Л. Ю., Очеретенко Ю. Є. Природничонаукові основи формування світогляду студентів: монографія – Умань: ВПЦ  "Візаві", 2015. – 282 с.
3. Блажко М. А., Збарський В. К. Мотивація зайнятості у сільському господарстві: монографія – Київ, 2006. – 242 с.
4, Блажко М., Пилипенко В., Сапєлкіна О. Ринок праці в аграрному секторі: проблеми мотивації зайнятості: монографія – Київ: ПЦ  "Фоліант", 2008. – 175 с.
5. Вуйченко М. А. Сегментація ринку праці в аграрній сфері України: монографія – Умань: видавець " Сочінський", 2011. – 472 с.
6. Вуйченко М. А. Фінансовий менеджмент: управління інвестиціями: навчал. посібн. -  Умань: ВПЦ  "Візаві", 2010. – 168 с.
7. Вуйченко М. А. Особливості сегментації ринку праці в аграрній сфері: монографія – Умань: видавець "Сочінський", 2011. – 366 с.